MINING MUSEUM BREZOVE HORY
- Tour sites »
Site B 'The Anna-Mine'

»

Anna Mine
The Anna (Ann) Mine
The Anna (Ann) Mine in Příbram belongs to the most important mining relics in our country from the historical, technical and architectonical point of view. It was started to be excavated in 1789 as the second oldest pit after the Vojtěch (Adalbert) Mine in the modern history of the Březové Hory Mining District. The initiator of that action was mining and metallurgical foreman Jan Antonín Alis, a pioneer of deep exploitation in the Příbram District, an area famous for its mining from the Middle Ages.
During the years the Anna Mine became a centre of exploitation of silver and lead in the Březové Hory Mining District. In 1896 the miners reached the depth of 1 000 m and kept in going deeper. From 1914 to 1957 the Anna Shaft was the deepest pit in the mining district. In the 1930s it was also the deepest pit in Europe. The maximum depth, 1 464.3 m, was reached in 1941; the last level was situated in the depth of 1 449.3 m. It remained the deepest pit in Czechoslovakia until the 1950s. The last exploitation works which ended in 1978 were followed by adjustment of the equipment of the Anna Shaft two years later.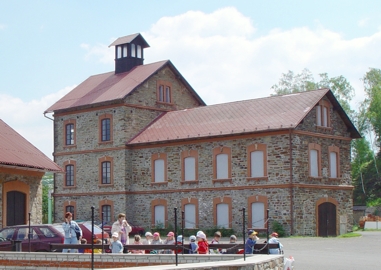 The pit is towered by the main shaft building which was erected in the middle of the 19 th century in the industrial style. It is situated on the place of the original building dated from 18 th century. It is 20.11 m high including a wooden little tower. The ground area is 10.3 m wide and 11.45 m long, the building has two floors and its face is made from brick form-pieces and rusty rubble stones. The main shaft building is a typical example of the industrial style. It abuts a two-storeyed building which used to serve as a registration room for miners who went down the pit. Not far from it there is an engine room with a steam mining engine made by the Breitfeld-Daněk Company in 1914 and also a store of technical accessories and utilities for mining which used to serve as a registration room at the Anna Shaft. The engine and the registration rooms are open to public. They both display not only technical equipment of the mine but also thematic mining exhibitions. The visitors can see the underground corridors of the mine from the seat in a little mining train moving along the Prokop Adit or they can walk along the Anenská (Ann's) Water Adit to the Vojtěch (Adalbert) Mine or they can tour the other old shafts at the Březové Hory Mining Area.